A good start
A Swedish handicraft company with proven products in new designs.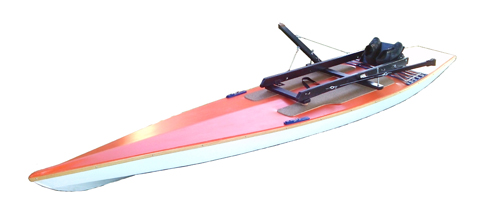 Nymö Hamn is building and selling boats built in skin- on-frame technique .
Rowing catamarans ,rowing and paddle platforms for exercise, recreation or fishing with a weight of 16 - 21kg that can be easily loaded on the roof rack of your car. Optional color scheme and a deck with photo prints offered. 
Skin-on -frame technology , is an old and well-proven way to build kayaks and boats made ​​of wood and seal skin , which later developed into a skin in linseed treated and painted fabric . In recent years, often used polyester fabric which is also in the aerospace industry for lining body and wings on light aircraft. The advantage of polyester fabric tear strength and does not rot like canvas does. 
Now it is not kayaks mainly built, but stable rowing and fishing catamarans and rowing and paddle platforms. The catamaran can be equipped with an electric motor and weighs just 21 kg . Going to load onto the roof without any great difficulty .
Rowing platform weighs 5 kilos less . The products are available in a choice of colors and with different equipment options depending on whether you are just looking to row and paddle or you need to have equipment with you.
You can also get the deck with optional printing in photo quality.
Are you going to row any of these boats made by Nymö Hamn the rowing rig fits both models. It is built of wood, has adjustable height for the oars and opportunity to use oars of racing model or standard wooden oars . The rowing rig is equipped with roller seat , but is available with a fixed seat . The rowing rig is also available in any color. 
The company has 25 years experience in boat building and have built in skin- on-frame the past 10 years .
Please contact Origin Sweden for delivery in UK.