Fishing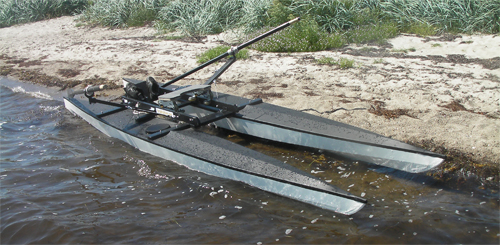 C450-cat is a fantastically well-functioning fishing platform, which you can row and use with an small engine. Rowing rig with motor mount for electric motor and place for the battery. Removable seat and place for the cooler bag, fishing rod holders and other accessories. 
Handling
The catamaran weighs about 21 kg and the rig from about 8 kg depending on model. They are divisible and loaded separately.
The outside
Polyester fabric is coated to become waterproof. The color is optional, the paint is water based or as desired. Deck fabric may be the same as the hull and painted or you can have the deck covered with printed fabric with photos or other.
.