Rowing catamaran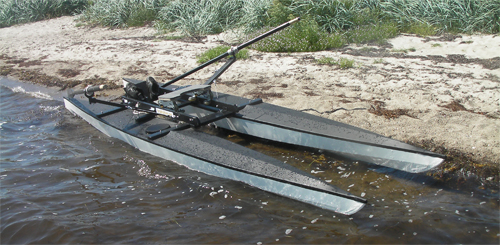 Length: 450 cm, width: 120 cm. Hull width: 40 cm.
Weight: about 21 kg. 
Also available as double. Length: 550 cm, width: 120 cm. Hull width: 40 cm. Weight: about 25 kg.
Function
C450-cat is stable, feels safe when things go a little wavy, and offers an opportunity to see the sea bottom when you move in shallow water. The space between the hulls is often in the shade and open a panoramic window. You do not need to use a rolling seat. The course is also stable when the wind blows. Deck rigging and hatch is optional .

A Rowing catamaran is durable. Polyester fabric used is of aircraft quality and more resistant to crashes than a fiberglass hull. The material can withstand collisions with rocks without getting permanent damage such as scratches or cracks. Polyester fabric is coated to become waterproof.
Equippment
The color is optional on the hull, deck and rowing rig. The paint is water based or as desired. Deck fabric may be the same as the hull and painted or you can get the deck with photo prints. Rowing Rig with transport bracket for oars. Fixed or adjustable footrest. Oars of wood with oarlocks. Velcro foot straps or rowing shoes.
Accessories
Deck rgging on the fore or aft deck and hatch in the middle of the deck. Fiberglass Oars and oar lock. Roller seat. Foot rests that are adjustable horizontally, vertically and has adjustable angle.